Allstar Joinery is one of the leading providers of bespoke commercial joinery and shopfitting in Scotland. From Glasgow to Edinburgh; Dundee to Aberdeen and throughout the Central Belt of Scotland all the way down to the Dumfries and over the borders be it Manchester or London.
We aim to enhance how premises look thanks to our in-house sustainable production facility which ensures controllability over project specifications for our clients and adaptability to ensure the highest of standards are always achieved, within budget and on time. Allstar Joinery's master craftsman ensure all projects have a standard of finish second to none, we offer bespoke commercial joinery standards that ensure our clients keep coming back time and time again. So, whether it is for projects involving; restaurants, commercial and government offices, hotels, retail spaces, public houses, bars, local community organisation premises, institutions, health care premises such as care homes, nursing homes and hospitals, retail banking and the private and public education projects, our company has experience in all these sectors.
The term bespoke joinery for some readers doesn't bear much meaning in terms of the way we can apply a highly skilled and crafted project for any client or business. So in this blog post, we thought we would help explain to you just what bespoke joinery is, what we mean when we say "bespoke joinery Scotland" and what real life applications this approach to work has had on our business.
What is bespoke joinery?
Putting it in a rather simple and uncomplicated manner, bespoke joinery is a method of creating furniture and furnishings for any type of building or business that focusses on customisation and independence.  Every building needs to tell a story and bring about some level of inspiration. Allstar Joinery aims to do this in every project we work on and every client we work with, whether they are private clients, commercial business owners, main contractors, architects or interiors designers. Our approach to bespoke joinery is to show how master craftsmanship and design can play a big role in a business and how our relationship is one that is tailored to your discipline.
How does bespoke joinery work?
It takes more than one mind to create bespoke commercial joinery. Here at Allstar, we work in close association with highly skilled and experienced architects, interior designers and construction professionals who work in a tight knit group to achieve incredible results right out the gate.
Every major job we undertake has a big degree of bespoke joinery in every detail, be it doors, door sets & screens, architraves, internal joinery finishes, internal partitions or suspended ceilings and custom made to measure furniture for domestic and commercial premises.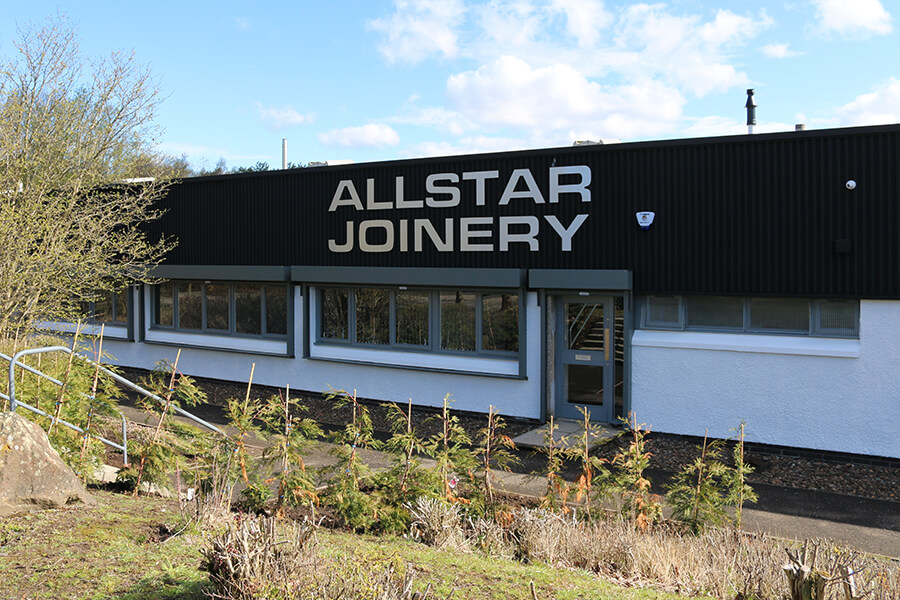 What does bespoke joinery Scotland mean?
We are a country that are experts with our hands. Scotland has some of the best craftsman and creators in the world, and here at Allstar Joinery we strive to be the top name in the country when someone thinks of the phrase "bespoke joinery Scotland". This is thanks to our uniqueness and with each and every project we're privileged to work on.
No matter what sector you're in, we can work with you. Some of the industries we've completed bespoke joinery work for includes:
Retail Banking
Retail shops
Medical centres
Health centres
Care and nursing homes
Financial sector projects
Schools, colleges and universities
Sports and leisure clubs
Hotel
Guest Houses
Commercial offices
Public houses
Bar & restaurant
All of the bespoke commercial joinery work takes place right here in our sustainable production facility, where we have carried out over 2,100 projects for clients across the UK who want bespoke joinery that reflects their business's needs and wants. A large part of preparing for any project large or small involves having the right skill sets available for any works we will carry out.
As well as calling on our highly skilled and experienced team, we plan for the future with the Allstar Joinery in-house training academy which is run in association with Glasgow Kelvin College. We train our own apprentices to ensure they have the necessary trade experience and know how to deliver in all works they may be asked to carry out under supervision, be it bespoke joinery, site fitting or installation.
What makes bespoke joinery different?
A job is never truly done unless we're completely satisfied with it, and part of our approach to highlight the bespoke joinery Scotland should be known for is to provide quality assurance and after care for our work. Our Core Values pushes the entire team, whether they're in the office or out on the production facility floor or onsite, with the aim of fulfilling all client expectations and provide an unparalleled service.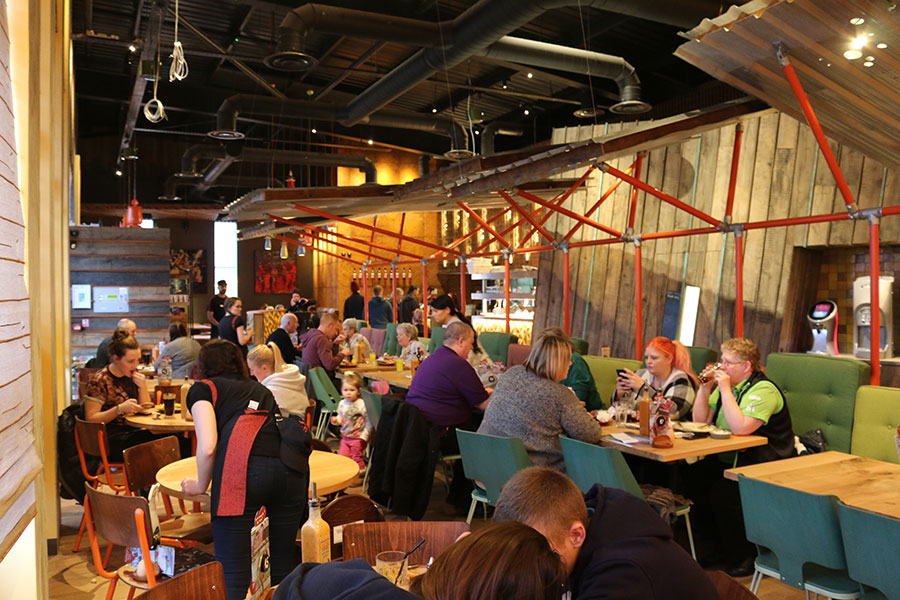 Bespoke joinery in practice
Our recent work on Nando's in Straiton Park, Edinburgh is a shining example of our bespoke joinery. Every facade of the build required the individual approach which would ensure that the restaurant had its own identity, was welcoming, and most importantly was functional for diners and those working there every day. A large part of bespoke joinery is ensuring that the work can leave a positive impact on anyone who has to look at it. Little touches can turn something as simple as a waiting area into something where the person is engaged and enjoys being there.
Bespoke joinery also employs a high level of regard for the materials used in the creation process. For us, we are very lucky to have what we need right here at our sustainable production facility. The onsite area means that we take a fully tailored approach with any client. We can correspond over any and all minor changes in an instant, alter the direction of where we envision the bespoke joinery will end up, and most importantly, rest comfortably in the knowledge that we can control the quality of the build.
Bespoke joinery Scotland ensures trust
Many companies offering bespoke joinery in Scotland will actually have works carried out by a third party at an exterior location. This can lead to work that lacks personality and just doesn't do a company's vision as promised. We take every job (no matter how big or small) seriously and aim to be the go-to name when it comes to showing anyone what bespoke joinery Scotland has to offer.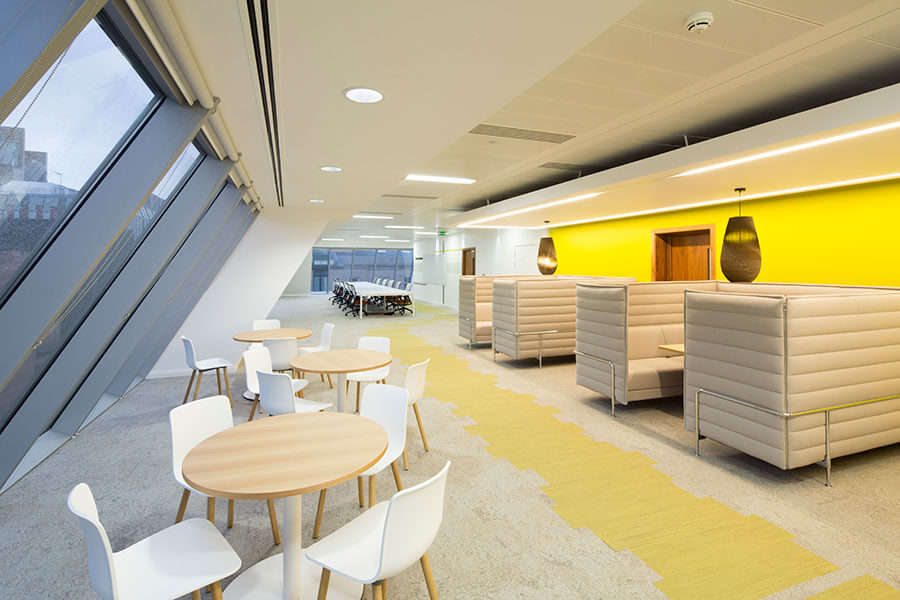 Bespoke joinery ensures uniqueness
The power of collaboration is an incredible thing. In the same fashion, we have an ethos of being the type of company that no one in Scotland can come close to, we also want our work to reach that next level. As you can see above, our work with Network Rail's HQ in Glasgow was something of a passion project for us. Because of our base, we were able to maintain control of local labour, deliver the project on time and under budget. This job, in particular, put a large focus on getting the job on schedule across six floors.
Bespoke joinery ensures responsibility
An overlooked facet of commercial bespoke joinery is the urge to work against all too familiar habits that can cause workers to be wasteful with materials. This is something that we aim to minimise at all times. That's why we're proud to say that we recycle and re-use 100% of the offcuts and sawdust that is left over from any work carried out in the Allstar Joinery sustainable production facility. This process applies to who we work with too. 91% of our business is from returning customers who know what bespoke joinery can do for their business and how much we care for the environment and our materials.
Even after initial work is complete, the process works best when customer feedback informs upon how well we do and what the experience of working Allstar was like.
Want to know more about bespoke joinery?
If you'd like to know more about any of the processes we carry out, or have seen some of our work and want to know more about it, please get in touch with the team at Allstar Joinery today by calling us on 0800 270 7779 or using our contact page. Contact us today and find out why Allstar Joinery is the top name when talking about what bespoke joinery Scotland has to offer.